Obesity Linked to Low Testosterone Levels
Study shows obesity linked to low testosterone levels in men.
(2341 reads)

You may very well think that aging is the main cause of low testosterone levels in men. A study in the Journal of Clinical Endocrinol Metabolism shows that testosterone levels in men who are at least 40 years of age normally declines at a rate of 1% per year.
A recenty study published in the Journal of Diabetes Care, conducted by University of Buffalo endocrinologists, has linked another source of testosterone decline that is not age related - obesity. In the study, 40% of obese participants had lower than normal testosterone levels. The percentage with low testosterone increases for obese participants that have diabetes as well. According to Sandeep Dhinsa, MD, of the University of Buffalo Department of Medicine, the effect of having diabetes on testosterone was "similar to that of a weight gain of approximately 20 pounds."
The study was conducted from November 2003 to February 2004 by Solvay Pharmaceuticals, Inc. called Hypogonadism in Males (HIM) which involved 2,165 men 45 years or older.
Low testosterone in men is referred to as hypogonadism. The condition means your body on its own is not able to produce sufficient amounts of testosterone to maintain normal body functions. Your T level should not go below 400 ng/dl, however doctors would advise you to maintain at least 200 ng/dl which might be too low.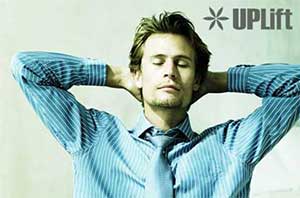 It is not recommended for men to maintain low levels of testosterone as it can cause increased risk of heart disease, infertility, depression, metabolic syndrome, decreased mental ability, low bone mineral density (osteoporosis), ability to gain muscle mass, increased body fat, decreased self-esteem, erectile dysfunction, and lower sperm count and sex drive. And according to Supinda Bunyavanich, MD, here, having low testosterone even increases the risk of death.
Fat cells in our body metabolize (aromatase) testosterone into estrogen, another hormone that lowers testosterone. Obesity is also found to lower levels of sex hormone binding globulin (SHBG), a protein that carries testosterone in the blood. With less SHBG, testosterone is not freely circulated to bind to its receptors to realize its benefits.
It is recommended for men who are obese and those with any form of diabetes to have their levels of testosterone monitored.
February 22, 2013
Copyright 2021